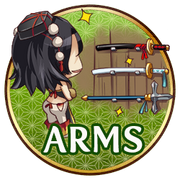 Weapons in Sengoku Asuka ZERO can be equipped to warriors to provide various bonuses and skills.
Proficiency and mastery
[
]
As a warrior participates in more battles, their proficiency with the weapon increases. When this proficiency reaches the maximum, the buffs to warriors stats associated with that weapons are granted to the warrior permanently.
Weapon types
[
]
Each warrior is limited to equipping weapons of a specific type:
Close range
Medium range
Long range
Weapon Slots
[
]
Your main weapon is the one equipped it to the top weapon slot. This is the one that will be shown in battle. Subweapons are those equipped in slots beneath the main. Subweapons will only apply a portion of their bonuses. However, they acquire the same amount of proficiency through battle. Sub Weapon slots are unlocked as warriors level up.
Forging
[
]
You can forge new weapons when they are suggested to you. As you praise your warriors they will draw you new weapon schematics which can you take to the smith. Each warrior suggests a different weapon so if you're generous with your praise, you'll find yourself with an arsenal in no time. You can see what weapon each warrior will suggest on their info screen.
When forging, there is a chance that the forging will be a Great Success. When this happens, the weapon will start at a higher Imbuement level.
Imbue
[
]
By fusing two of the same weapon, you can Imbue a weapon with greater power. The weapon's stats and special effects will increase with its Imbuement level.
Weapon list
[
]
| Image | Name | Rarity | Type | ATK | DEF | Spec | Master | Obtained | Trait |
| --- | --- | --- | --- | --- | --- | --- | --- | --- | --- |
| | Straight Blade | ☆ | | 47 | 108 | N/A | HP + 0.27% | Item Drop | |
| | Iron Blade | ☆ | | 50 | 114 | N/A | DEF + 0.5% | Item Drop | |
| | Blue Blade | ☆ | | 52 | 103 | N/A | SPD + 0.5% | Item Drop | |
| | Strengthened Blade | ☆☆ | | 71 | 170 | DEF + 25 | HP + 0.45% | +++++++++++ FIND OWNER | |
| | Violet Blade | ☆☆ | | 52 | 103 | ATK +2% | HP + 0.45% | (Flying Shinobi) Katō Danzō | |
| | Silver's Call | ☆☆☆ | | +6.4% | +17.6% | DEF +4% | DEF + 4% | (Unifier's Bride) Asahihime | |
| | Famine Blade | ☆☆☆ | | +4.9% | +14.1% | EVA UP II | DEF + 1.1% | (Five Rings) Miyamoto Musashi | |
| | Red Silver Blade | ☆☆☆ | | +% | +% | SPD UP II | DEF + 0.7% | Raid Event Item ++++++++++++ EDIT ATK/DEF & FIND OWNER | |
| | Cherry Crest Blade | ☆☆☆ | | +% | +% | SPD UP II | ACC + 1% | ++++++++++++ EDIT ATK/DEF & FIND OWNER | |
| | Pale Stone Blade | ☆☆☆ | | +5% | +12.3% | SPD UP II | HP + 0.7% | (Depraved Monk) Tenkai Sōjō Raid | |
| | Antipodean Scarlet Blade | ☆☆☆ | | +% | +% | SPD UP II | SPD + 0.5% | ++++++++++++ EDIT ATK/DEF & FIND OWNER | |
| | Briar Whip | ☆☆☆ | | +% | +% | EVA UP II | EVA + 1.7% | ++++++++++ EDIT ATK/DEF & FIND OWNER | |
| | Cavalry Blade | ☆☆☆☆ | | +8.6% | +22.4% | DEF +6% | CRIT + 2.1% | (One-Eyed Demon) Yagyō Jōbei | |
| | Indigo Soul Shredder | ☆☆☆☆ | | +10.9% | + 14.1% | EVA UP III | EVA + 2.1% | (Betrayer) Akechi Mitsuhide | |
| | Manchu Dragon | ☆☆☆☆ | | +14.7% | +16.3% | ATK +6% | DEF + 1.4% | (Strength of 1000) Azai Nagamasa | |
| | Towers of Old | ☆☆☆☆ | | +15.1% | +12.2% | SPD UP III | DEF + 1.6% | (Silent Shōgun) Sanada Masayuki | |
| | Soul Blade | ☆☆☆☆ | | +21.7% | +14.3% | ATK +6% | HP + 0.75% | (Saintsmith) Masamune | |
| | Black Iron | ☆☆☆☆ | | +8% | +25% | DEF +8% | DEF + 1.4% | +++++++++++++++++++++++ FIND OWNER | |
| | Jubilant Great Sword | ☆☆☆☆ | | +21.7% | +14.3% | ATK +6% | HP + 0.75% | (Young Shōgun) Ashikaga Yoshiaki | |
| | Glassbreaker | ☆☆☆☆ | | +5% | +20% | SPD UP III | ACC + 1.3% | (Exquisite Blade) Mikogami Tenzen | |
| | Skull Blade | ☆☆☆☆ | | +14.3% | +14.9% | EVA UP III | DEF + 1.4% | Halloween Event Store | |
| | Bamboo Blade | ☆☆☆☆☆ | | +14.8% | +16.4% | SPD UP III | EVA + 1.3% | (Ippa-Ryū) Morooka Ippa | |
| | Greenfinch Blade | ☆☆☆☆ | | +16.7% | +14.3% | CRIT UP III | SPD + 1.4% | (Scholar) Kujō Tanemichi | |
| | Violet Chrysanthemum | ☆☆☆☆ | | +7.9% | +17.1% | SPD UP III | SPD + 1.3% | (Sleeping Dragon) Date Masamune | |
| | Sun Splitter | ☆☆☆☆☆ | | +10.1% | +32.9% | DEF +8% | ATK + 1.8% | (Atago Avatar) Naoe Kanetsugu | |
| | Betrayer's Blade | ☆☆☆☆☆ | | +13.7% | +26.4% | Max HP +3000, DEF +6% | EVA + 1.2% | (Lust for Power) Honda Masazumi | |
| | Fleeting Thunder Blade | ☆☆☆☆☆ | | +28.1% | +13.2% | ATK +8% | ATK + 1.7% | (Western Warrior) Tachibana Ginchiyo | |
| | Bonshō Blade | ☆☆☆☆☆ | | +12.5% | +33.0% | DEF +8% | DEF + 1.6% | (Vampire Killer) Sengoku Hidehisa | |
| | Russet Leaf Blade | ☆☆☆☆☆ | | +18.9% | +17.8% | CRIT UP IV | ATK + 1.8% | (Koishigawa) Mito Mitsukuni | |
| | Jeweled Broadsword | ☆☆☆☆☆ | 35x35px | +13.5% | +16.8% | SPD UP V | SPD + 1.6% | Itsukushima Ghost Story • Event item | |
| | Cobalt Shadow Blade | ☆☆☆☆☆ | | +19.4% | +15.6% | EVA UP IV | CRIT + 2.6% | (Demon Blade) Yagyū Munetoshi | |
| | Peacemaker Blade | ☆☆☆☆☆ | | +22.6% | +18.1% | EVA UP IV | SPD + 1.6% | (Queen of Bungo) Ōtomo Sōrin | |
| | Thorned Stand | ☆☆☆☆☆ | | +17.5% | +16.1% | SPD UP IV | SPD + 1.6% | (Brand-New Idol) Shimazu Toyohisa | |
| | Knight's Bamboo Blade | ☆☆☆☆☆ | | +28.1% | +12.6% | ATK +8% | CRIT + 1.6% | (Jigen-Ryū) Tōgō Shigekata | |
| | Sakura petal | ☆☆☆☆☆ | | +11.2% | +13.4% | SPD UP IV | SPD + 1.6% | (Staunch Ally) Honda Masanobu | |
| | Drying Pole | ☆☆☆☆☆ | | +30.8% | +10.2% | ATK +8% | CRIT + 2.6% | (Swallow Cut) Sasaki Kōjirō | |
| | Bone Crusher | ☆☆☆☆☆ | | +24.1% | +18.9% | ATK +8% | ATK + 1.8% | (Hiragumo) Matsunaga Hisahide | |
| | Incensed Flames | ☆☆☆☆☆ | | +15.7% | +21.2% | Max HP +3000, EVA UP III | HP + 0.7% | (Inheritor) Anayama Baisetsu | |
| | Reversed Willow Blade | ☆☆☆☆☆ | | +25.1% | +27.8% | EVA UP IV | DEF + 1.6% | +++++++++++++++++++++++ FIND OWNER | |
| | Home Security | ☆☆☆☆☆ | | +16.7% | +21.7% | DEF +8% | EVA + 1.1% | (Homeguard) Miyamoto Musashi | |
| | Hearth Blade | ☆☆☆☆☆ | | +16.7% | +20.7% | ACC UP IV | EVA + 2.6% | +++++++++++++++++++++++ FIND OWNER | |
| | Nō Mask | ☆☆☆☆☆ | | +% | +% | CRIT UP IV | ACC + 1.6% | +++++++++++++++++++++++ EDIT ATK/DEF & FIND OWNER | |
| | Aisu Ice Blade | ☆☆☆☆☆ | | +16.4% | +15.5% | EVA UP IV | DEF + 1.8% | (Ice Cream Truck) Aisu Hisatada | |
| | Devil's Treason | ☆☆☆☆☆ | | +5.1% | +33.9% | DEF +8% | DEF + 1.8% | +++++++++++++++++++++++ EDIT ATK/DEF & FIND OWNER | |
| | Treachery of the Revenant | ☆☆☆☆☆ | | +% | +% | SPD UP III | EVA + 1.8% | +++++++++++++++++++++ EDIT ATK/DEF & FIND OWNER | |
| | Fangs of War | ☆☆☆☆☆ | | +10.5% | +23.4% | EVA UP III, SPD UP III | DEF + 1.3% | (Doggy Paddler) Tokugawa Tsunayoshi | |
| | Thunder of War | ☆☆☆☆☆ | | +8.1% | +23.9% | CRIT UP III, EVA UP III | ACC + 1.6% | (Raikiri) Tachibana Dōsetsu | |
| | Chief Kotetsu | ☆☆☆☆☆ | | +12.5% | +22.5% | EVA UP IV | EVA + 2.6% | (Lacquerbell) Suzuhime | |
| | Crimson Gold | ☆☆☆☆☆ | | +22.4% | +21.3% | ATK +6%, SPD UP III | ATK + 1.5% | (Beast of Minowa) Nagano Narimasa | |
| | Reed Weaver | ☆☆☆☆☆ | | +19.7% | +22.3% | Max HP +5000 | HP + 1.1% | (Chūjō Warrior) Toda Seigen | |
| | Firebird Blade | ☆☆☆☆☆ | | +22.3% | +10.6% | Max HP +3000, CRIT UP III | SPD + 1.6% | (Divine Blade) Yagyū Munenori | |
| | Sickle Knife | ☆☆☆☆☆ | | +16.6% | +12.8% | ACC UP IV | ACC + 1.6% | (Caterpillar) Date Shigezane | |
| | Indigo Soul Stealer | ☆☆☆☆☆☆ | | +24.7% | +23.8% | Max HP +5000, CRIT UP IV | ATK + 2.2% | (Flame of Hate) Akechi Mitsuhide | |
| | Quartermaster Demand | ☆☆☆☆☆☆ | | +21.9% | +20.9% | Per IMBUE LV: Max HP +750 | ATK + 2.2% | (Soul Diva) Akechi Mitsuhide | |
| | Crimson Wisdom | ☆☆☆☆☆☆ | | +32.1% | +20.9% | CRIT UP IV, ATK +8% | DEF + 2.2% | (Kanemaki-Ryū) Kanemaki Jisai | |
| | Yamato Oak Blade | ☆☆☆☆☆☆ | | +21.2% | +23.8% | Max HP +7500 | ATK + 2.2% | (Destructor) Shima Sakon | |
| | Kamewari Blade | ☆☆☆☆☆☆ | | +27.4% | +24.1% | EVA UP IV, SPD UP IV | SPD + 2% | (Ittō-Ryū) Itō Ittōsai | |
| | Bellflower Wing | ☆☆☆☆☆☆ | | +26.20% | +33.00% | DEF +8% | DEF + 2.2% | (Fallen Angel) Francis Xavier | |
| | Scarlet Witch Blade | ☆☆☆☆☆☆ | | +32.3% | +24.1% | Guards against silence x1 | ATK + 3% | +++++++++++++++++++++++ FIND OWNER | |
| | Indigo Heaven Blade • Alert | ☆☆☆☆☆☆ | | +29.3% | +29.1% | Guards against confuse x1 | HP + 2.9% | Sengoku Asuka ZERO First Year Anniversary Raid Event | |
| | Unrivalled Great Blade | ☆☆☆☆☆☆ | | +31.2% | +30.8% | ATK, DEF +8% | DEF + 2% | (Paragon) Shimazu Toyohisa | |
| | Exorcism Blade | ☆☆☆☆☆☆ | | +28.3% | +27.2% | Trait weapon | ACC + 2% | (Queen of Bungo) Ōtomo Sōrin | When equipped to (Queen of Bungo) Ōtomo Sōrin, Reduce damage from Dark by 30% (+3% per Imbue level) |
| | Creation Bell | ☆☆☆☆☆☆ | | +32.2% | +29.8% | ATK +12% | SPD + 2% | (Kensei) Tsukahara Bokuden | |
| | Acalanatha Soul Blade | ☆☆☆☆☆☆ | | +30.0% | +18.3% | Max HP +5000, ATK +8% | CRIT + 2.5% | (Bathing Dragon) Date Masamune | |
| | Kashū Kiyomitsu | ☆☆☆☆☆☆ | | +34.60% | +15.40% | CRIT UP IV | ATK + 2.2% | (First Captain) Okita Sōji | |
| | Dusken Wisteria | ☆☆☆☆☆☆ | | +33.3% | +21.7% | SPD UP IV, ATK +8% | CRIT + 3.3% | (Warped Blade) Yagyū Jūbei | |
| | Evil Eye Blade | ☆☆☆☆☆☆ | | +20.4% | +24.8% | Max HP +7500 | EVA + 3.3% | (Young Dragon) Bontenmaru | |
| | Azure Dragon Fang | ☆☆☆☆☆☆ | | +22.4% | +28.4% | EVA UP V | HP + 1.3% | (Dragon Summoner) Date Masamune | |
| | Austere Grace | ☆☆☆☆☆☆ | | +29.7% | +26.8% | EVA UP IV, CRIT UP IV | HP + 1.5% | (Tactician) Shinmen Muni | |
| | Summer Bouquet | ☆☆☆☆☆☆ | | +16.3% | +22.8% | SPD UP V | EVA + 3.3% | (Bathing Beast) Nagano Narimasa | |
| 70x70px | Peppermint Blade | ☆☆☆☆☆☆ | | +25.3% | +22.1% | Max HP +5000, SPD UP IV | CRIT + 2.1% | Happy Holidays Event | |
| | Jūmonji Blade | ☆☆☆☆☆☆ | | +16.2% | +28.8% | HP regen in battle | EVA + 3.3% | (Ever Loyal) Sanada Yukimura | |
| | Muryōjukei | ☆☆☆☆☆☆ | | +22.3% | +33.0% | EVA UP V, CRIT UP V | EVA + 3.3% | (Pure Land Being) Hōnen | |
| | Crimson Battledore | ☆☆☆☆☆☆ | | +17.6% | +16.2% | EVA UP V | ATK + 2.2% | (Spring Smith) Sengo Muramasa | |
| | Shin-Ichimonji | ☆☆☆☆☆☆☆ | | +24.3% | +43.2% | Trait weapon | DEF +2.4% | (Ever Loyal) Sanada Yukimura | When equipped to (Ever Loyal) Sanada Yukimura: Heal 2000HP/sec, Chance to absorb 100% of normal attack damage as HP (+10% Absorb per Imbue level, 3000HP/sec at Imbue +10) |
| | Sharp Lance | ☆ | | 74 | 82 | N/A | CRIT + 0.8% | Item Drop | |
| | Simple Lance | ☆ | | 80 | 90 | N/A | DEF + 0.5% | Item Drop | |
| | Bladed Lance | ☆ | | 81 | 87 | N/A | CRIT + 0.8% | Item Drop | |
| | Sturdy Lance | ☆ | | 74 | 82 | N/A | EVA + 0.8% | Item Drop | |
| | Broad Tip Lance | ☆☆ | | 95 | 148 | DEF +25 | DEF + 0.8% | +++++++++++++++++++++++ FIND OWNER | |
| | Pat-Pat | ☆☆ | | +7.4% | +7.6% | EVA UP | ACC + 0.7% | (Storm Lion) Hōjō Ujiyasu | |
| | Snow Matoi | ☆☆☆ | | +16.8% | +9.8% | ATK + 4% | CRIT +1.7% | +++++++++++++++++++++++ FIND OWNER | |
| | Heaven Made | ☆☆☆ | | +% | +% | CRIT UP II | ACC + 1% | +++++++++++++++++++++++ EDIT ATK/DEF & FIND OWNER | |
| | Bound Spear | ☆☆☆ | | +9.1% | +14.9% | DEF +4% | EVA + 1.7% | (Snowspear) Azai Nagamasa | |
| | Breakthrough | ☆☆☆ | | +% | +% | SPD UP II | ACC + 1% | +++++++++++++++++++++++ EDIT ATK/DEF & FIND OWNER | |
| | White Brilliance | ☆☆☆ | | +% | +% | EVA UP II | EVA + 0.7% | +++++++++++++++++++++++ EDIT ATK/DEF & FIND OWNER | |
| | Snowdance Flower | ☆☆☆ | | +% | +% | SPD UP II | ATK + 1% | +++++++++++++++++++++++ EDIT ATK/DEF & FIND OWNER | |
| | Mop | ☆☆☆ | | +6% | +7% | Per IMBUE LV: Max HP +100 | EVA + 1.5% | April Fools Login | |
| | Wings of the Departed | ☆☆☆☆ | | +13.6% | +11.4% | ACC UP III | CRIT + 2.1% | (Silent Watcher) Uesugi Kagekatsu | |
| | Kingfisher Lance | ☆☆☆☆ | | +14.5% | +10.5% | EVA UP III | ATK + 1.4% | (Hexer) Kuroda Nagamasa | |
| | Sky Piercer | ☆☆☆☆ | | +10.4% | +20.6% | DEF +6% | EVA + 2.1% | (Sun Spear) Aya-Gozen | |
| | Three Moon Lance | ☆☆☆☆ | | +12.0% | +13.0% | SPD UP III | ATK + 1.4% | (Bamboo Spear) Kani Saizō | |
| | Indigo Blue | ☆☆☆☆ | | +% | +% | ATK +6% | ATK + 1% | (Left Minister) Tsukushi Hirokado | |
| | Frosted Magnificense | ☆☆☆☆ | | +19.6% | +9.4% | ATK +6% | DEF + 1.4% | (Loyal Lion) Sanada Nobuyuki | |
| | Wicked Fang | ☆☆☆☆☆ | | +16.5% | +16.5% | HP regen in battle. | DEF + 1.8% | (Dog Shōgun) Tokugawa Tsunayoshi | |
| | Tartarian Spear | ☆☆☆☆☆ | | +% | +% | ACC UP IV | EVA + 1.2% | +++++++++++++++++++++++ EDIT ATK/DEF & FIND OWNER | |
| | Purest Crimson Lance | ☆☆☆☆☆ | | +20.1% | +14.9% | EVA UP IV | ACC + 1.6% | (Demon Princess) Oichi-no-Kata | |
| | Lance of Deliverance | ☆☆☆☆☆ | | +24.3% | +16.6% | SPD UP IV | ATK + 1.3% | (Seaside Sage) Furuta Oribe | |
| | Fuschia Crystalis | ☆☆☆☆☆ | | +17.2% | +15.8% | EVA UP IV | CRIT + 2.6% | (Festive Dancer) Giō | |
| | Crimson Crucifix | ☆☆☆☆☆ | | +22.8% | +13.7% | CRIT UP IV | ACC + 1.6% | (Convert) Takayama Tomoteru | |
| | Inferno Lance | ☆☆☆☆☆ | | +% | +% | SPD UP IV | CRIT+ 1.5% | +++++++++++++++ EDIT ATK/DEF & FIND OWNER | |
| | Latte Stirrer | ☆☆☆☆☆ | | +18.90% | +17.10% | SPD UP IV | CRIT + 2.6% | (Pumpkin Sage) Sen-no-Rikyū | |
| | Kanemoto Lance | ☆☆☆☆☆ | | +25.8% | +19.2% | ATK +10% | EVA + 2.6% | (Dandy) Maeda Keiji | |
| | Sustained Ideals | ☆☆☆☆☆ | | +24.3% | +11.3% | SPD UP IV | EVA + 2.6% | (Philosopher) Hayashi Razan | |
| | Double-Edged Chaos | ☆☆☆☆☆ | | +21.5% | +18.7% | EVA, CRIT UP III | CRIT + 2.4% | (Tempest) Ijuin Tadaao | |
| 70x70px | Teacher's Spear | ☆☆☆☆☆ | | +14.50% | +16.40% | ACC UP IV | CRIT + 2.6% | (Manilan) Iga Maria | |
| | Buddha's Mercy | ☆☆☆☆☆ | | +11.6% | +32.9% | DEF +10% | DEF + 1.4% | +++++++++++++++++++++++ FIND OWNER | |
| | Disruptor | ☆☆☆☆☆ | | +19.8% | +20.0% | ACC UP IV | ATK + 1.3% | (Fisher Monk) Shimazu Iehisa | |
| | Ōbaku Sky Song | ☆☆☆☆☆ | | +22.9% | +16.2% | SPD UP IV | ATK + 1.3% | (Golden Girl) Kobayakawa Hideaki | |
| | Indigo Karuta | ☆☆☆☆☆ | | +15.4% | +19.6% | SPD UP III, CRIT UP III | EVA + 2.6% | (Karuta Prodigy) Hosokawa Yūsai | |
| | Lake Blade | ☆☆☆☆☆ | | +19.7% | +23.3% | DEF +8% | HP + 1.1% | (Dragon of Echigo) Uesugi Kenshin | |
| | Lance of Loyalty | ☆☆☆☆☆ | | +18.6% | +16.4% | SPD UP IV | ACC + 1.6% | (Warrior for Love) Ohatsu | |
| | Shooting Star Lance | ☆☆☆☆☆ | | +% | +% | ACC UP IV | ATK + 1.3% | +++++++++++++++++++++++ EDIT ATK/DEF & FIND OWNER | |
| | Wool-Bound Spear | ☆☆☆☆☆ | | +15.7% | +23.2% | CRIT UP IV | EVA + 2.6% | (Summer Dancer) Giō | |
| | Khakkhara | ☆☆☆☆☆ | | +14.7% | +13.1% | EVA UP IV | ACC + 1.6% | Spider's Twisted Web | |
| | Blinder Lance | ☆☆☆☆☆ | | +16.8% | +18.0% | ACC UP IV | CRIT + 1.2% | (Body Double) Mokuami | |
| | Lunarium Lance | ☆☆☆☆☆ | | +16.4% | +20.4% | SPD UP IV | SPD + 1.6% | (Summer Panda) Kani Saizō | |
| | Daisy Parasol | ☆☆☆☆☆ | | +24.7% | +21.3% | CRIT UP IV | ACC + 1.6% | (Shade Blossom) Mori Yoshiyuki | |
| | Condenser Mic | ☆☆☆☆☆ | | +17.5% | +19.5% | ACC UP IV | HP + 1.1% | (Performer) Maeda Toshiie | |
| | Doctor's Hand | ☆☆☆☆☆ | | +17.5% | +13.6% | CRIT UP III, SPD UP III | ACC + 1.6% | Halloween Event Store | |
| | Voyager | ☆☆☆☆☆ | | +16.4% | +11.8% | EVA UP IV | EVA + 2.6% | (Pretty Pirate) Kōno Masamichi | |
| | Scarlet Witch Lance | ☆☆☆☆☆☆ | | +30.1% | +25.8% | Guards against silence x1 | CRIT + 2.8% | +++++++++++++++++++++++ FIND OWNER | |
| | Indigo Heaven Lance | ☆☆☆☆☆☆ | | +27.1% | +30.8% | Guards against confuse x1 | EVA + 3.5% | Sengoku Asuka ZERO First Year Anniversary Raid Event | |
| | Gold-copper Crucifix | ☆☆☆☆☆☆ | | +32.6% | +20.8% | ATK +8%, CRIT UP V | ATK + 1.8% | (Cross-Spear) Hōzōin Inshun | |
| | Essence of the Founder | ☆☆☆☆☆☆ | | +26.6% | +16.4% | Max HP +5000, CRIT UP IV | SPD + 2% | (Onsen Beauty) Hōjō Sōun | |
| | Rubicund Lance | ☆☆☆☆☆☆ | | +22.7% | +28.8% | SPD UP V | CRIT + 2.2% | (Godspear) Maeda Toshiie | |
| | Mulberry Summer | ☆☆☆☆☆☆ | | +24.7% | +25.8% | EVA UP V | CRIT + 2.2% | (Summer Dragon) Uesugi Kenshin | |
| | Tonbo-kiri | ☆☆☆☆☆☆ | | +30.0% | +25.0% | ATK +10% | HP + 1.3% | (The Strongest) Honda Tadakatsu | |
| | Straight Pike | ☆☆☆☆☆☆ | | +27.70% | +19.80% | Max HP +7500 | CRIT + 3% | (Victim of Duty) Azai Nagamasa | |
| | Russet Leaf Thorn | ☆☆☆☆☆☆ | | +25.4% | +21.8% | SPD UP V | CRIT + 3.3% | (The Monk) Sakuma Nobumori | |
| | Steam Lance | ☆☆☆☆☆☆ | | +34.3% | +15.0% | Max HP +7500 | HP + 1.3% | (Bathhouse Hero) Shimazu Toyohisa | |
| | Golden Sparrow | ☆☆☆☆☆☆ | | +27.8% | +30.1% | EVA UP V | HP + 1.3% | (Crimson Demon) Ii Naomasa | |
| | Chains of Command | ☆☆☆☆☆☆ | | +31.50% | +25.20% | EVA UP V, ATK +8% | SPD + 2% | (Cursed Dandy) Maeda Keiji | |
| | Emerald Dragon Lance | ☆☆☆☆☆☆ | | +33.8% | +22.8% | CRIT UP V | CRIT + 3.3% | (Dragon Goddess) Uesugi Kenshin | |
| 70x70px | Holy Candelabra | ☆☆☆☆☆☆ | | +30.1% | +30.1% | EVA UP IV, ACC UP IV | SPD + 2% | (Dutiful Delivery) Satake Yoshinobu | |
| | Mic Stand | ☆☆☆☆☆☆ | | +29.5% | +15.8% | Guards against sleep x1 | ACC + 1.2% | Idol Event | |
| | Golden Iris | ☆☆☆☆☆☆ | | +23.7% | +30.5% | CRIT UP IV, DEF +8% | DEF + 2.2% | (Candy Collector) Yoshinaka | |
| | Soaring Dragonfly | ☆☆☆☆☆☆☆ | | +30% | +37.5% | Trait weapon | ACC + 2.4% | (The Strongest) Honda Tadakatsu | When equipped to (The Strongest) Honda Tadakatsu: At battle start, 50% chance to inflict Silence and Confuse on highest-DEF foe (+3% per Imbue level; additional target at Imbue+10) |
| | Equine Brush | ☆ | | 133 | 82 | N/A | CRIT + 0.8% | Item Drop | |
| | Sturdy Mace | ☆ | | 140 | 94 | N/A | HP + 0.27% | Item Drop | |
| | Sharp Axe | ☆ | | 146 | 83 | N/A | ATK + 0.5% | Item Drop | |
| | Halberd | ☆☆ | | 192 | 143 | DEF +25% | DEF + 0.8% | Item Drop | |
| | Bound Iron Club | ☆☆☆ | | +% | +% | CRIT UP II | CRIT + 1.5% | +++++++++++++++++++++++ EDIT ATK/DEF & FIND OWNER | |
| | Lucille | ☆☆☆ | | +15% | +1% | Per IMBUE LV: Max HP +100 | ACC + 1.3% | April Fools Login | |
| | Guardian's Maul | ☆☆☆ | | +10.2% | +9.8% | EVA UP II | DEF + 1.1% | ++++++++++++++++++ FIND OWNER | |
| | Josui | ☆☆☆ | | +% | +% | ATK +4% | CRIT + 1.7% | +++++++++++++++++++++++ EDIT ATK/DEF & FIND OWNER | |
| | Majestic Scepter | ☆☆☆ | | +% | +% | DEF +4% | HP + 0.7% | +++++++++++++++++++++++ EDIT ATK/DEF & FIND OWNER | |
| | Spiked Club | ☆☆☆ | | +17.2% | +6.8% | ATK +4% | SPD + 1% | +++++++++++++++++++++++ FIND OWNER | |
| | Tomb Smasher | ☆☆☆ | | +12.2% | +7.8% | ACC UP II | HP + 0.63% | (Charming Demon) Chōsokabe Motochika | |
| | Kitty Mallet | ☆☆☆ | | +12.9% | +9.1% | CRIT UP II | CRIT + 1.7% | Maeda Masatora's Very own Festival! Event | |
| | Fanged Cudgel | ☆☆☆☆ | | +13.4% | +11.6% | EVA UP III | CRIT + 2.1% | (Tutor of Light) Takuan Sōhō | |
| | Morning Star | ☆☆☆☆ | | +% | +% | CRIT UP III | ACC + 1.3% | +++++++++++++++++++++++ EDIT ATK AND DEF | |
| | Rainbow Braid | ☆☆☆☆ | | +11.8% | +12.3% | ACC UP III | ACC + 1.3% | (Accordioneer) Ujie Bokuzen | |
| | Indigo Iron Flag | ☆☆☆☆ | | +11.8% | +12.3% | EVA UP III | ACC +1.3% | (Mindreader) Shimazu Toshihisa | |
| | Cloud Sigil | ☆☆☆☆ | | +17.5% | +7.5% | SPD UP III | EVA + 2.1% | +++++++++++++++++++++++ FIND OWNER | |
| | Parasol Hammer | ☆☆☆☆ | | +15.1% | +9.9% | ACC UP IV | DEF + 1.4% | (Lady Chacha) Yodogimi | |
| | Dhyana Battleaxe | ☆☆☆☆ | | +16.2% | +8.8% | EVA UP IV | CRIT + 2.1% | (Dancing Blade) Iso-no-Zenji | |
| | Magnetic Scythe | ☆☆☆☆ | | +14.6% | +12.4% | SPD UP III | EVA + 2.1% | (Gullible) Hori Hidemura | |
| | Exile's War Fan | ☆☆☆☆ | | +11.6% | +18.3% | SPD UP III | ATK + 0.99% | (Snarling Badger) Ryuzōji Takanobu | |
| | Dynamic Mic | ☆☆☆☆☆ | | +17.8% | +16.2% | CRIT UP IV | ACC + 1.6% | (Wannabe Actress) Nōhime | |
| | Dragon Scepter | ☆☆☆☆☆ | | +28.7% | +10.8% | ATK +8% | CRIT + 2.6% | (Super Shiba) Shibata Katsuie | |
| | Hoarfrost Sceptre | ☆☆☆☆☆ | | +% | +% | CRIT UP IV | HP + 0.8% | +++++++++++++++ EDIT ATK/DEF & FIND OWNER | |
| | Nature's Hook | ☆☆☆☆☆ | | +14.5% | +20.5% | SPD UP IV | ACC + 2.6% | (Unbreakable) Matsudaira Tadateru | |
| | Golden Brush | ☆☆☆☆☆ | | +23.2% | +11.9% | SPD UP IV | CRIT + 2.6% | (Sumi-E Master) Sesson | |
| | Refined Oak Brush | ☆☆☆☆☆ | | +20.6% | +12.4% | SPD UP IV | ACC + 1.6% | (Calligrapher) Sakakibara Yasumasa | |
| | Sacrificial Stone | ☆☆☆☆☆ | | +28.1% | +11.6% | ATK +6%, EVA UP III | CRIT + 2.6% | (Young Tiger) Suwa Katsuyori | |
| | Bladebreaker Mace | ☆☆☆☆☆ | | +18.1% | +16.9% | Max HP +5000 | ATK + 1.4% | (Demon Tiger) Katō Kiyomasa | |
| | Violet Morning Star | ☆☆☆☆☆ | | +% | +% | SPD UP IV | ATK + 1.2% | ++++++++++++++++++ EDIT ATK/DEF & FIND OWNER | |
| | Haruno Venus | ☆☆☆☆☆ | | +26.7% | +11.5% | CRIT UP IV | ATK + 1.3% | (Wild Beast) Kakei Jūzō | |
| | Kurikara | ☆☆☆☆☆ | | +29.3% | +13.7% | ATK +8% | ATK + 1.8% | (Shot-Caller) Uesugi Kagetora | |
| | Man-Eater Battleaxe | ☆☆☆☆☆ | | +29.3% | +13.7% | ATK +8% | CRIT + 2.6% | (Spring Dandy) Maeda Keiji | |
| | Indigo Battleaxe | ☆☆☆☆☆ | | +19.6% | +16.8% | SPD UP IV | DEF + 1.8% | (Dutiful) Satake Yoshinobu | |
| | Grove Demon - Victory | ☆☆☆☆☆ | | +32.3% | +8.7% | ATK +8% | HP + 0.9% | (Warflower) Shibata Katsuie | |
| | Scarlet Battleaxe | ☆☆☆☆☆ | | +16.6% | +16.7% | ACC UP IV | SPD + 1.6% | (Lady of Reeds) Noriyori | |
| | Gold Dragon Sigil | ☆☆☆☆☆ | | +18.1% | +24.9% | DEF +8% | HP + 0.99% | (Demon of Bandō) Satake Yoshishige | |
| | Seven Hawk Axe | ☆☆☆☆☆ | | +18.2% | +16.4% | EVA UP IV | ACC + 1.6% | (Falconwing) Takagi Kiyohide | |
| | Violet Ice Petal | ☆☆☆☆☆ | | +15.7% | +23.3% | CRIT UP IV | ACC + 2.6% | (Pearl of Kyoto) Kyōgoku Maria | |
| | Silver Scythe | ☆☆☆☆☆ | | +22.7% | +16.7% | SPD UP IV | EVA + 2.5% | (Wise Hero) Sakakibara Yasumasa | |
| | Bound Battleaxe | ☆☆☆☆☆ | | +19.4% | +22.4% | SPD UP IV | DEF + 1.3% | (Natural Talent) Hiraga Gennai | |
| 70x70px | North Pole | ☆☆☆☆☆ | | +30.9% | +11% | ATK +8% | ATK + 1.8% | Happy Holidays Event | |
| | Battleaxe of Ignorance | ☆☆☆☆☆ | | +18.7% | +18.1% | ACC UP IV | ACC +1.6% | (Of Few Words) Amakasu Kagemochi | |
| | Abacus Crusher | ☆☆☆☆☆ | | +19.7% | +15.3% | EVA UP IV | EVA + 2.6% | (Great Sage) Katakura Kagetsuna | |
| | Sake Sledgehammer | ☆☆☆☆☆ | | +17.4% | +15.6% | CRIT UP IV | ACC + 1.6% | (Drunken Lancer) Mori Tomonobu | |
| | Divine Mallet | ☆☆☆☆☆ | | +20.1% | +14.9% | EVA UP IV | CRIT + 0.28% | (Army Breaker) Shimazu Yoshihiro | |
| | Thundercloud Hammer | ☆☆☆☆☆ | | +14.7% | +10.8% | SPD UP IV | CRIT + 2.6% | (Grand General) Sue Harukata | |
| | Lazuli Battle Fan | ☆☆☆☆☆ | | +% | +% | ACC UP IV | CRIT +2.6% | ++++++++++++++ EDIT ATK/DEF & FIND OWNER | |
| | Serenity Fan | ☆☆☆☆☆ | | +29.8% | +18.6% | ATK +6%, CRIT UP III | CRIT + 1.8% | (Rival Diviner) Dōma Hōshi | |
| | Lantern Smash | ☆☆☆☆☆ | | +21.7% | +12.3% | EVA UP IV | EVA + 2.6% | (Soothing Steam) Kamiizumi Hidetane | |
| | Shadowflare | ☆☆☆☆☆ | | +24.6% | +11.4% | CRIT UP IV | ATK + 1.8% | (Summer Teatime) Yodogimi | |
| | Perfectus Solarus | ☆☆☆☆☆ | | +18.6% | +20.1% | EVA UP IV | HP + 0.85% | (Summer Sage) Sen-no-Rikyū | |
| | Pink Parasol | ☆☆☆☆☆ | | +% | +% | ACC UP IV | SPD + 1.6% | +++++++++++++++++++ EDIT ATK/DEF & FIND OWNER | |
| | Abacus | ☆☆☆☆☆ | | +22.2% | +22.2% | ATK +8% | ATK +1% | (Action Accountant) Kamiya Sōtan | |
| | Summer Kadomatsu | ☆☆☆☆☆ | | +19.70% | +13.60% | CRIT UP IV | ATK + 1.8% | (Beach Drinker) Tachibana Muneshige | |
| 70x70px | Multi Painter | ☆☆☆☆☆ | | +17.8% | +11.1% | SPD UP IV | SPD + 1.6% | (Mad Painter) Toriyama Sekien | |
| | Roar of Battle | ☆☆☆☆☆ | | +21.8% | +13.2% | CRIT UP IV | CRIT + 2.6% | (Warpriest) Asakura Sōteki | |
| | Were Paw | ☆☆☆☆☆ | | +19.2% | +17.5% | SPD UP IV | EVA + 2.6% | Halloween Event Store | |
| | Scarlet Witch Axe | ☆☆☆☆☆☆ | | +31.2% | +25.2% | Guards against silence x1 | ATK + 2.8% | ++++++++++++++++++++++ FIND OWNER | |
| | Indigo Heaven Axe • Alert | ☆☆☆☆☆☆ | | +38.2% | +23.2% | Guards against confuse x1 | CRIT + 3% | Sengoku Asuka ZERO First Year Anniversary Raid Event | |
| | Hibiki Axe | ☆☆☆☆☆☆ | | +36.7% | +24.1% | Gloom/Curse Guard x1 | ATK + 2.2% | Itsukushima Ghost Story • Event item | |
| | Grove Demon - Domination | ☆☆☆☆☆☆ | | +36.5% | +15.2% | Trait weapon | HP + 1.3% | (Warflower) Shibata Katsuie | When equipped to (Warflower) Shibata Katsuie, Reduces Slash damage taken by 30% (+3% per Imbue level) |
| | Celestial Path | ☆☆☆☆☆☆ | | +35.5% | +17.3% | ATK +10% | CRIT + 3% | (Sword Maniac) Kamiizumi Nobutsuna | |
| 70x70px | The Bloodspiller | ☆☆☆☆☆☆ | | +33.5% | +27% | CRIT UP V | ATK + 3.3% | (Blood Red) Akechi Mitsuhide | |
| | Thunder Drum | ☆☆☆☆☆☆ | | +28.7% | +19.1% | SPD UP V | ACC + 2.2% | (Hard-Headed) Inaba Ittetsu | |
| | Black Peach Crown | ☆☆☆☆☆☆ | | +28.1% | +16.9% | HP regen in battle. | CRIT + 3.3% | (Grand Minister) Taira-no-Kiyomori | |
| | Blessed Vajra | ☆☆☆☆☆☆ | | +33.8% | +25.8% | ACC UP V | ATK + 2.2% | (The Void) Kūkai | |
| | Diamond Cutter Axe | ☆☆☆☆☆☆ | | +39.7% | +17.2% | CRIT UP IV, ACC UP IV | ATK + 2.5% | (Tiger of Kai) Takeda Shingen | |
| | Golden Conductor | ☆☆☆☆☆☆ | | +18.1% | +23.8% | CRIT UP V | DEF + 2.2% | (Stalwart Monk) Musashibō Benkei | |
| | Poetry Megaphone | ☆☆☆☆☆☆ | | +35.3% | +22.7% | EVA UP V | SPD + 2% | (Voice of an Era) Matsuo Bashō | |
| | Kagura Bell | ☆☆☆☆☆☆ | | +28.7% | +22.1% | EVA UP V | EVA + 2.1% | (Slug Summoner) Tsunade | |
| | Heaven's Mandate | ☆☆☆☆☆☆ | | +30.8% | +26.8% | CRIT UP IV, SPD UP IV | CRIT + 3.3% | (War Demon) Naitō Masatoyo | |
| | Candy Container | ☆☆☆☆☆☆ | | +37.10% | +23.40% | EVA UP IV, ATK +8% | CRIT + 3.3% | (Foreign Witch) Luis Frois | |
| | Ducky Light | ☆☆☆☆☆☆ | | +33.80% | +24.10% | EVA UP IV, SPD UP IV | SPD + 2% | (Demon's Bath) Li Naomasa | |
| | Evening Battle Fan | ☆☆☆☆☆☆ | | +30.7% | +15.1% | CRIT UP V | ACC + 2.8% | (Firework Star) Imagawa Yoshimoto | |
| | Devil's Offering | ☆☆☆☆☆☆ | | +20.4% | +28.2% | Max HP +7500 | DEF + 2% | (Yamatai) Himiko | |
| | Shuriken | ☆ | | 91 | 82 | N/A | ACC + 0.5% | Item Drop | |
| | Kunai | ☆ | | 94 | 93 | N/A | ATK +0.5% | Item Drop | |
| | Light Scythe | ☆ | | 89 | 86 | N/A | DEF + 0.5% | Item Drop | |
| | Sharpened Shuriken | ☆☆ | | 119 | 114 | SPD UP | DEF + 0.8% | ++++++++++++++++++++++ FIND OWNER | |
| | Crow Sickle | ☆☆ | | +8.2% | +6.8% | ACC UP | DEF + 0.8% | (Kamaitachi) Yuri Kamanosuke | |
| | Avian Magic | ☆☆☆ | | +% | +% | ATK +4% | CRIT + 1.7% | ++++++++++++++++++++++ EDIT ATK/DEF & FIND OWNER | |
| | Sky Shuriken | ☆☆☆ | | +% | +% | DEF +4% | HP + 0.7% | ++++++++++++++++++++++ EDIT ATK/DEF & FIND OWNER | |
| | Scarlet Shuriken | ☆☆☆ | | +14.8% | +9.2% | ATK +4% | HP + 0.7% | (Rebel Patriot) Mori Sōiken | |
| | Glory Hound | ☆☆☆ | | +25.4% | +13% | ATK +4% | SPD + 0.5% | ++++++++++++++++++++++ FIND OWNER | |
| | Quartz Edge | ☆☆☆ | | +% | +% | EVA UP II | HP + 0.85% | ++++++++++++++++++++++ EDIT ATK/DEF & FIND OWNER | |
| | Wisteria Fan | ☆☆☆ | | +14.4% | +9.6% | ATK +4% | ATK + 1.1% | (True Lady) Nene | |
| | Set Square | ☆☆☆ | | +8% | +4% | Per IMBUE LV: Max HP +100 | ATK + 1.4% | April Fools Login | |
| | Star Kunai | ☆☆☆ | | +9.8% | +1.7% | DEF + 4% | ATK + 1.4% | Spider's Twisted Web | |
| | Tiger Cub Blade | ☆☆☆☆ | | +14.8% | +16.2% | DEF + 6% | ACC + 1.3% | (Blazing Tiger) Ii Naotora | |
| | Nōkōmu | ☆☆☆☆ | | +15.8% | +13.5% | EVA UP III | SPD + 1.5% | (Righteous) Fujibayashi Masayasu | |
| | Limniris Thorn | ☆☆☆☆ | | +20.5% | +14.6% | CRIT UP III | CRIT + 2.1% | (Eye For Victory) Amakasu Kagetsugu | |
| | Soul Slash | ☆☆☆☆ | | +18.6% | +12.4% | ATK +6% | ACC + 1.3% | (Blade Reborn) Kuki Sumitaka | |
| | Shrine Blade | ☆☆☆☆ | | +15.5% | +13.5% | DEF +6% | DEF + 1.4% | (Spring Shinobi) Katō Danzō | |
| | Frosted Lapis Lazuli | ☆☆☆☆ | | +13.5% | +17.2% | SPD UP III | DEF + 1.4% | (Winter Warrior) Yoshida Nagatoshi | |
| | Wind Razor | ☆☆☆☆ | | +13.2% | +11.8% | SPD UP IV | ATK + 1.4% | (Iga Master) Fujibayashi Nagato | |
| | Tasty Candy | ☆☆☆☆ | | +15.7% | +13.7% | ACC UP III | EVA + 2.1% | Halloween Event Store | |
| | Heart's Reserve | ☆☆☆☆ | | +15.2% | +13.8% | ATK +6% | CRIT + 2.1% | (Shichitegumi) Kakizaki Kageie | |
| | Crimson Scroll | ☆☆☆☆ | | +12.4% | +20.8% | DEF +6% | CRIT + 1.5% | (Inkmaster) Hasegawa Tōhaku | |
| | Vita Lotus | ☆☆☆☆ | | +13.1% | +11.9% | ACC UP III | ATK + 1.4% | (High Priest) Hongan-ji Kennyo | |
| | 6th Sage | ☆☆☆☆☆ | | +14.4% | +18.6% | CRIT UP IV | DEF + 1.8% | (Winter Saint) Hosokawa Gracia | |
| | Heretic's Temptation | ☆☆☆☆☆ | | +20.7% | +17.6% | CRIT UP IV | SPD + 1.4% | (Heretic Priest) Konchiin Suden | |
| | Wizard's Mandate | ☆☆☆☆☆ | | +21.2% | +18.1% | EVA UP IV | EVA + 1.4% | Dark Generals Awakening - Konchiin • Tsukuyomi | |
| | Rokudan-no-Shirabe | ☆☆☆☆☆ | | +14.1% | +19.2% | CRIT UP IV | HP + 1.5% | (Koto Sage) Yatsuhashi Kengyō | |
| | Hiten Masamune | ☆☆☆☆☆ | | +% | +% | EVA UP IV | EVA + 1.8% | ++++++++++++++++++++++ EDIT ATK/DEF & FIND OWNER | |
| | Azure Wings | ☆☆☆☆☆ | | +% | +% | ACC UP IV | ATK + 1.12% | ++++++++++++++++++++++ EDIT ATK/DEF & FIND OWNER | |
| | Heaven Dew | ☆☆☆☆☆ | | +13.8% | +18.6% | EVA UP IV | HP + 1.1% | (Bathing Beauty) Katakura Kagetsuna | |
| | Inquisition | ☆☆☆☆☆ | | +16.1% | +17.0% | Max HP +3000, EVA UP III | SPD + 1.6% | (Blademaster) Mori Ranmaru | |
| | Sweet Bean and Barley Mochi | ☆☆☆☆☆ | | +23.0% | +16.80% | CRIT UP IV | ATK + 1.8% | (Race Runner) Shimazu Toshihisa | |
| | Scarlet Festivus | ☆☆☆☆☆ | | +13.1% | +17.8% | ACC UP IV | ACC + 1.6% | Maeda Masatora's Very own Festival! Event | |
| | Exultant Sakura | ☆☆☆☆☆ | | +20.1% | +19.8% | ACC UP IV | CRIT + 2.6% | (Festival Fan) Maeda Masatora | |
| | Signed Placard | ☆☆☆☆☆ | | +14.5% | +19.6% | Guards against Numb x1 | EVA + 0.9% | Idol Event | |
| | Counter Kunai | ☆☆☆☆☆ | | +14.3% | +18.8% | ACC UP IV | SPD + 1.6% | (Winter Poet) Atagi Fuyuyasu | |
| | Crimson Night Assault | ☆☆☆☆☆ | | +22.4% | +18.5% | EVA UP IV | HP + 1.4% | (Imperial Spy) Hattori Hanzō | |
| | Mountain Thunder | ☆☆☆☆☆ | | +13.4% | +21.6% | EVA UP IV | HP + 1.1% | (Mountain Sage) Jiraiya | |
| | Golden Limerence | ☆☆☆☆☆ | | +18.1% | +20.3% | SPD UP IV | CRIT + 2.6% | (Disturbed Wife) Hosokawa Tadaoki | |
| | Possessed Brush | ☆☆☆☆☆ | | +15.30% | +16.20% | ACC UP IV | ACC + 1.6% | (Lafcadio Hearn) Koizumi Yakumo | |
| | Sun Clipper | ☆☆☆☆☆ | | +22.7% | +19.6% | EVA UP IV | SPD + 1.6% | (Ikebana) Ono-no-Imoko | |
| | Resonant Scythe | ☆☆☆☆☆ | | +19.3% | +17.2% | CRIT UP IV | SPD + 1.1% | (Bladed Breeze) Yuri Kamanosuke | |
| | Dragonson | ☆☆☆☆☆ | | +16.4% | +14.9% | CRIT UP IV | ATK + 1.8% | (Jealous) Hosokawa Tadaoki | |
| 70x70px | Small Bell | ☆☆☆☆☆ | | +16.1% | +16.3% | CRIT UP IV | ACC + 1.6% | (Endless Overtime) William Adams | |
| | King Plushie | ☆☆☆☆☆ | | +22.7% | +15.1% | Max HP +5000 | HP + 1.1% | (Lecturer) Naoe Kagetsuna | |
| | Dusk Demon Scroll | ☆☆☆☆☆ | | +17.4% | +15.1% | CRIT UP IV | CRIT + 1.6% | (Flame of Ruin) Yūka | |
| | Bamboo Parchment | ☆☆☆☆☆ | | +19.2% | +17.6% | EVA UP IV | DEF + 1.8% | (The Fourth) Kusunoki Masatora | |
| | Sunblock | ☆☆☆☆☆ | | +16.30% | +15.30% | SPD UP IV | DEF + 1.8% | (Sunbather) Tōgō Shigekata | |
| | Scarlet Letter | ☆☆☆☆☆ | | +15.5% | +25.8% | SPD UP IV | SPD + 1.6% | (Grand Merchant) Ōga Sōku | |
| | Emerald Millenium | ☆☆☆☆☆ | | +18.5% | +10.2% | Max HP +3000, SPD UP III | ATK + 1.8% | (Iron Fan) Yamaguchi Tsuneshige | |
| | Mukushūen Fan | ☆☆☆☆☆ | | +24.4% | +16.2% | EVA UP IV | EVA + 1.8% | (Prisoner) Tsukiyama-dono | |
| | Merciful Eye | ☆☆☆☆☆ | | +11.5% | +29.3% | DEF +8% | DEF + 1.6% | (Depraved Monk) Tenkai Sōjō | |
| | Whirlwind Battle Fan | ☆☆☆☆☆ | | +16.7% | +20.7% | ACC UP IV | DEF + 1.2% | (Hakkenden) Tanehime | |
| | Blue-Gold War Fan | ☆☆☆☆☆ | | +13.5% | +20.6% | CRIT UP III, ACC UP III | ACC + 1.6% | (Relaxing Ruler) Toyotomi Hideyoshi | |
| | Indigo Phosphor Winds | ☆☆☆☆☆ | | +14.1% | +22.7% | DEF +6%, SPD UP III | CRIT + 2% | (Devotee) Yamamoto Kansuke | |
| | Rosen War Fan | ☆☆☆☆☆ | | +20.6% | +12.4% | ACC UP III, EVA UP III | SPD + 1.6% | (Young Dancer) Hayakawadono | |
| | Obsidian Cloth | ☆☆☆☆☆ | | +20.6% | +12.4% | CRIT UP IV | ATK + 1.8% | (Dancing Demon) Nagoya Sansaburō | |
| | Kabuki Fan | ☆☆☆☆☆ | | +18.6% | +16.4% | EVA UP IV | CRIT + 2.6% | (Goddess of Kabuki) Izumo-no-Okuni | |
| | Guided Shuriken | ☆☆☆☆☆☆ | | +31.6% | +21.4% | ATK +8%, CRIT UP IV | CRIT + 3.3% | (Shadow of Iga) Momochi Tanba | |
| | Scarlet Witch Shuriken | ☆☆☆☆☆☆ | | +26.8% | +29.7% | Guards against silence x1 | DEF + 2.9% | ++++++++++++++++++++++ FIND OWNER | |
| | Indigo Heaven Shuriken | ☆☆☆☆☆☆ | | +36.8% | +25.7% | Guards against confuse x1 | ATK + 3.2% | Sengoku Asuka ZERO First Year Anniversary Raid Event | |
| | Sun's Tide | ☆☆☆☆☆☆ | | +30.8% | +24.2% | Per IMBUE LV: Max HP +750 | DEF + 2.5% | (Shy Shinobi) Kirigakure Saizō | |
| | Bewildered Divinity | ☆☆☆☆☆☆ | | +31.8% | +17.7% | Max HP +5000, EVA UP V | ATK + 2.2% | (Toad Sage) Jiraiya | |
| 70x70px | Petrified Crimson Lotus | ☆☆☆☆☆☆ | | +28.6% | +25.7% | CRIT UP IV | ACC UP IV | (Wanderer) Yasuke | |
| | Easy Listening | ☆☆☆☆☆☆ | | +29.0% | +18.0% | CRIT UP V | ATK + 2.2% | (Golden Lotus) Nichiren | |
| 70x70px | Christmas Mira-Coal | ☆☆☆☆☆☆ | | +28.3% | +26.5% | CRIT UP V | HP + 1.3% | Happy Holidays Event | |
| | Crimson Lotus | ☆☆☆☆☆☆ | | +33.6% | +23.1% | Trait weapon | EVA + 3.3% | (Imperial Spy) Hattori Hanzō | When equipped to (Imperial Spy) Hattori Hanzō, Reduce damage from Water by 30% (+3% per Imbue level) |
| | Broken Crown | ☆☆☆☆☆☆ | | +28.1% | +27.7% | HP regen in battle. | HP + 2.5% | (Unifier) Tokugawa Ieyasu | |
| | Spider's Dance | ☆☆☆☆☆☆ | | +23.6% | +21.4% | SPD UP V | HP + 1.3% | (Great Thief) Ishikawa Goemon | |
| | Love and Respect | ☆☆☆☆☆☆ | | +24.8% | +26.9% | ACC UP V | CRIT + 3.3% | (Bird of Himeji) Senhime | |
| | Divine Winds | ☆☆☆☆☆☆ | | +29.1% | +27.8% | CRIT UP V | ATK + 2.2% | (Grand Onmyōji) Abe-no-Seimei | |
| | Tegarayama Masashige | ☆☆☆☆☆☆ | | +30.20% | +30.40% | EVA UP IV, SPD UP IV | CRIT + 3.3% | (Second Captain) Nagakura Shinpachi | |
| | Candy Whirlwind | ☆☆☆☆☆☆ | | +36.7% | +22.1% | CRIT UP IV, ATK +8% | HP + 2.3% | (Wolf's Clothing) Sarutobi Sasuke | |
| | Fanbase | ☆☆☆☆☆☆ | | +24.9% | +18.1% | CRIT UP V | HP + 1.3% | (Aoba Star) Kirigakure Saizō | |
| | Steamed Sake | ☆☆☆☆☆☆ | | +26.6% | +20.1% | Max HP +7500 | EVA + 3.3% | (Bathing Spider) Matsunaga Hisahide | |
| | Fruity Floaty | ☆☆☆☆☆☆ | | +30.20% | +28.10% | EVA UP IV, CRIT UP IV | SPD + 2% | (Wet Witch) Koide Hidemasa | |
| | Rifle | ☆ | | 127 | 75 | N/A | EVA + 0.8% | Item Drop | |
| | Bound Rifle | ☆ | | 145 | 76 | N/A | DEF + 0.5% | Item Drop | |
| | Heavy Rifle | ☆ | | 129 | 74 | N/A | EVA + 0.8% | Item Drop | |
| | Modified Rifle | ☆☆ | | 181 | 129 | DEF +25 | ATK + 0.72% | ++++++++++ FIND OWNER | |
| | Violet Flintlock | ☆☆ | | +9.7% | +7.3% | DEF +2% | EVA + 1.1% | (Martyr) Amakusa Tokisada | |
| | Festival Fireworks | ☆☆☆ | | +% | +% | SPD UP II | ACC + 1% | ++++++++++ EDIT ATK/DEF & FIND OWNER | |
| | Suzaku Flintlock | ☆☆☆ | | +12.8% | +7.2% | SPD UP II | DEF + 1.1% | (Cannoneer) Saika Magoichi | |
| | Hiyō | ☆☆☆ | | +15.5% | +4.5% | SPD UP II | ACC +1% | ++++++++++++++++ FIND OWNER | |
| | Inferno Shot | ☆☆☆☆ | | +21.0% | +10.0% | ATK +6% | ACC + 1.3% | (Dread Descent) Amakusa Shirō | |
| | Ashes of Eternal Slumber | ☆☆☆☆ | | +16.9% | +13.4% | ACC UP III | ACC + 0.9% | (Ruler of Oshi) Narita Nagachika | |
| | Constance Pistol | ☆☆☆☆ | | +15.9% | +9.1% | EVA UP III | ATK + 1.26% | (Black Ship) Matthew Perry | |
| | Calamity | ☆☆☆☆ | | +11.1% | +13.2% | CRIT UP III | HP + 0.5% | (Death's Head) Asakura Yoshikage | |
| | 28 Caliber | ☆☆☆☆ | | +19.4% | +11.6% | ATK +6% | CRIT + 2.1% | (Friendly Witch) Koide Hidemasa | |
| | Violet Angel | ☆☆☆☆ | | +16.4% | +8.6% | ACC UP III | HP + 1.4% | (True Believer) Akashi Takenori | |
| | Silver Moon Pistol | ☆☆☆☆ | | +15.6% | +11.4% | EVA UP III | ACC + 1.3% | (Snow Rider) Gotō Kyubei | |
| | Pine Needle Pistol | ☆☆☆☆ | | +13.9% | +10.4% | SPD UP III | EVA + 0.9% | (Summer Vassal) Mashita Nagamori | |
| | White Apricot | ☆☆☆☆☆ | | +18.1% | +16.2% | Max HP +3000 | HP + 0.6% | (Deva Gate) Nabeshima Naoshige | |
| | Ghost Marauder | ☆☆☆☆☆ | | +13.4% | +21.6% | SPD UP III, EVA UP III | CRIT + 2.6% | (Gunsmoke) Kōtokui Tomokage | |
| | Triple 8s | ☆☆☆☆☆ | | +17.5% | +19.5% | ACC UP IV | ATK + 1.8% | (Rice Shōgun) Tokugawa Yoshimune | |
| | Vita Floris Rifle | ☆☆☆☆☆ | | +23.1% | +10.2% | SPD UP IV | SPD + 1.6% | (Steamy Warrior) Makimura Toshisada | |
| | Minted Indigo | ☆☆☆☆☆ | | +% | +% | SPD UP IV | SPD + 1.6% | ++++++++++++++++++ EDIT ATK/DEF & FIND OWNER | |
| | Lunar Hare | ☆☆☆☆☆ | | +20.8% | +13.4% | EVA UP IV | EVA + 2.6% | (Moon Deva) Nabeshima Naoshige | |
| | Water Cannon | ☆☆☆☆☆ | | +16.5% | +14.8% | CRIT UP IV | ATK + 1.5% | (Water Warrior) Imagawa Yoshimoto | |
| | Fortuitous Water Pistol | ☆☆☆☆☆ | | +17.5% | +13.5% | ACC UP III, EVA UP III | EVA + 2.6% | (Bath Shinobi) Sarutobi Sasuke | |
| | Kappa Pistol | ☆☆☆☆☆ | | +22.4% | +10.6% | CRIT UP III, ACC UP III | SPD + 1.6% | Mizuchi's Raid | |
| | Silver Violet | ☆☆☆☆☆ | | +17.8% | +13.6% | ACC UP IV | SPD + 1% | Dark Generals Awakening - Mizuchi | |
| | Decorative Softgun | ☆☆☆☆☆ | | +20.4% | +18.0% | EVA UP IV | EVA + 2.6% | (Masked Diva) Mori Ranmaru | |
| | Kingfisher Cannon | ☆☆☆☆☆ | | +22.8% | +16.8% | ATK +8% | SPD + 1.7% | (Beach Volleyer) Nabeshima Naoshige | |
| | Golden Rose | ☆☆☆☆☆ | | +% | +% | SPD UP IV | EVA + 1.7% | +++++++++++++++++ EDIT ATK/DEF & FIND OWNER | |
| | Spring Reverie | ☆☆☆☆☆ | | +20.8% | +16.4% | EVA UP IV | ACC + 1.6% | (Kiyosu Debater) Oda Toshisada | |
| | Zen Dragon Pistol | ☆☆☆☆☆ | | +28.4% | +12.6% | ATK +8% | ACC + 1.6% | (Inferno Gunner) Suzuki Shigetoki | |
| | Crow Binder | ☆☆☆☆☆ | | +17.5% | +17.5% | SPD UP III, ACC UP III | ACC + 1.6% | (Cleaner) Tsubashi Morishige | |
| 70x70px | El Salvador | ☆☆☆☆☆ | | +21.20% | +14.20% | EVA UP III, ACC UP III | CRIT + 2.6% | (Exaggerator) Louis Sotelo | |
| | Plum Samurai Rifle | ☆☆☆☆☆ | | +19.7% | +15.3% | SPD UP IV | ATK + 1.62% | (The Monkey) Toyotomi Hideyoshi | |
| | Golden Flintlock | ☆☆☆☆☆ | | +17.4% | +15.6% | EVA UP IV | DEF + 1.8% | (Courtly) Hino Terusuke | |
| | Indigo Tiger Steel | ☆☆☆☆☆ | | +% | +% | CRIT UP III, EVA UP III | HP + 0.99% | +++++++++++++++ EDIT ATK/DEF & FIND OWNER | |
| | Transcendent Journey | ☆☆☆☆☆ | | +16.1% | +18.6% | CRIT UP III | SPD UP III | (San'i_Hōin) Miyoshi Yoshifusa | |
| | Diamond Dust | ☆☆☆☆☆ | | +23.6% | +17.1% | ACC UP IV | CRIT + 2.6% | (Snow Summoner) Mogami Yoshiaki | |
| | Black Rhombus | ☆☆☆☆☆ | | +20.6% | +13.7% | SPD UP IV | CRIT + 2.6% | (Nijō Crusher) Shiōten Masataka | |
| 70x70px | Gingerbread Gun | ☆☆☆☆☆ | | +20.6% | +17.4% | Max HP +5000 | DEF + 1.8% | Happy Holidays Event | |
| | Wisteria Rule | ☆☆☆☆☆ | | +14.7% | +16.2% | EVA UP IV | CRIT + 2.6% | (Big Ego) Shichiri Yorichika | |
| | Silver Machinegun | ☆☆☆☆☆ | | +13.8% | +17.6% | ACC UP IV | ACC + 1.6% | (Holy Word) Luis Frois | |
| | Festival Bell | ☆☆☆☆☆ | | +19.20% | +17.20% | CRIT UP IV | CRIT + 2.6% | (Falconfan) Takagi Kiyohide | |
| | Dusken Knotweed | ☆☆☆☆☆ | | +22.0% | +14.2% | CRIT UP IV | SPD + 1.6% | (Dread) Amakusa Shirō | |
| | Lotus Dragon | ☆☆☆☆☆ | | +21.1% | +14.7% | SPD UP IV | SPD + 1.6% | (Summer Detective) Hasekura Tsunenaga | |
| | Violet Flintlock Zero | ☆☆☆☆☆ | | +29.6% | +11.4% | ATK +8% | ACC + 1.6% | (Winter Detective) Hasekura Tsunenaga | |
| | Camelia Inferno | ☆☆☆☆☆ | | +30.2% | +9.5% | ATK +8% | EVA + 1.8% | (Bewitcher) Otatsu-no-Kata | |
| | Enlightenment | ☆☆☆☆☆ | | +24.2% | +16.8% | DEF +8% | EVA + 2.6% | (Love Cannon) Ashikaga Shōgakuni | |
| | Golden Note | ☆☆☆☆☆ | | +23.2% | +16.5% | ATK +8% | SPD + 1.7% | (Bandmaster) Andō Morinari | |
| | Megaphone | ☆☆☆☆☆ | | +15.7% | +16.9% | Guards against Numb x1 | SPD + 1% | Idol Event | |
| | Demon King's Cannon | ☆☆☆☆☆☆ | | +41.2% | +11.3% | CRIT UP IV, EVA UP IV | ATK + 2.1% | (Demon Queen) Oda Nobunaga | |
| | Steam Cannon | ☆☆☆☆☆☆ | | +27.8% | +28.0% | CRIT UP V, ACC UP V | ACC + 2% | (Bathing Spear) Maeda Toshiie | |
| | Amethyst Water Gun | ☆☆☆☆☆☆ | | +34.1% | +19.4% | CRIT UP V | SPD + 2% | (Naval Instructor) Matthew Perry | |
| | Divine Gate | ☆☆☆☆☆☆ | | +29.20% | +24.40% | ACC UP IV | ACC + 2% | (Spirit Guide) Abe-no-Seimei | |
| | Squad Slayer Bayonet | ☆☆☆☆☆☆ | | +24.9% | +18.8% | CRIT UP V | SPD + 2% | (Dragon Shot) Takigawa Kazumasu | |
| | Mother of Pearl | ☆☆☆☆☆☆ | | +33.4% | +27.1% | CRIT UP V | ACC + 2% | (Glory) Eisai | |
| | Raven Phantasm | ☆☆☆☆☆☆ | | +29.2% | +15.8% | Max HP +7500 | HP + 1.3% | (Onmyō Gunner) Kiichi Hōgen | |
| | Scarlet Witch Pistol | ☆☆☆☆☆☆ | | +30.8% | +23.3% | Guards against silence x1 | HP + 2.8% | ++++++++++++++ FIND OWNER | |
| | Indigo Heaven Pistol • Alert | ☆☆☆☆☆☆ | | +34.9% | +22.5% | Guards against confuse x1 | DEF + 2.6% | Sengoku Asuka ZERO First Year Anniversary Raid Event | |
| | 12 Silver Dragons | ☆☆☆☆☆☆ | | +26.8% | +18.2% | Per IMBUE LV: Max HP + 1500 | ATK + 1.98% | Mizuchi's Raid | |
| | Black Death | ☆☆☆☆☆☆ | | +30.0% | +10.8% | SPD UP V | CRIT + 3.3% | (Black Bat) Koide Hidemasa | |
| | Triple 9s | ☆☆☆☆☆☆ | | +26.3% | +29.3% | Trait weapon | DEF + 2.2% | (Rice Shōgun) Tokugawa Yoshimune | When equipped to (Rice Shōgun) Tokugawa Yoshimune, At battle start, 50% chance to grant Silence immunity to 1-2 allies with highest ATK (+3% per Imbue level) |
| | Homecoming | ☆☆☆☆☆☆ | | +25.8% | +20.1% | EVA UP IV, ACC UP IV | HP + 1.3% | (Holy Leader) Princess Shōtoku | |
| | Slingshot | ☆☆☆☆☆☆ | | +23.3% | +19.5% | SPD UP V | ATK + 2.2% | (Great Monk) Miyoshi Seikai | |
| | Boo Bang | ☆☆☆☆☆☆ | | +29.9% | +28.3% | ACC UP V | ATK + 2.2% | Halloween Event | |
| | Golden Pistol | ☆☆☆☆☆☆ | | +27.0% | +18.0% | SPD UP VI | ATK + 1.98% | (Viper Blade) Kichō | |
| | Rainbow Revoler | ☆☆☆☆☆☆☆ | | +41.9% | +22.5% | Trait weapon | HP +1.5% | (Viper Blade) Kichō | When equipped to (Viper Blade) Kichō: At battle start, 50% chance to inflict Silence on 1-2 foes with highest HP (+3% per Imbue lvl, 1-3 foes at Imbue +10) |
| | Wooden Bow | ☆ | | 87 | 77 | N/A | EVA + 0.8% | Item Drop | |
| | Vermilion Bow | ☆ | | 88 | 76 | N/A | DEF + 0.5% | Item Drop | |
| | Check Bow | ☆ | | 104 | 83 | N/A | ATK + 0.45% | Item Drop | |
| | Red Earth | ☆☆☆ | | +14.6% | +9.4% | ARK +4% | HP + 0.7% | ++++++++++++ FIND OWNER | |
| | Azurean Bow | ☆☆☆ | | +11.9% | +7.1% | ACC UP II | EVA + 0.7% | ++++++++++ FIND OWNER | |
| | Devil's Camelia | ☆☆☆ | | +% | +% | ACC UP II | EVA + 0.8% | +++++++++++ EDIT ATK/DEF & FIND OWNER | |
| | Scarlet Bow | ☆☆☆ | | +% | +% | SPD UP II | EVA + 0.9% | ++++++++++++++++ EDIT ATK/DEF & FIND OWNER | |
| | Silver Ring Bow | ☆☆☆ | | +12.1% | +10.7% | CRIT UP IV | ACC + 1% | Itsukushima Ghost Story • Event item | |
| | Howling Typhoon | ☆☆☆☆ | | +14.5% | +10.5% | EVA UP III | DEF + 1.4% | ++++++++++++++ FIND OWNER | |
| | Fluted Bamboo | ☆☆☆☆ | | +13.2% | +14.8% | ACC UP III | SPD + 1.4% | (Patriot Minister) Ijuin Tadamune | |
| | Revolution Bow | ☆☆☆☆ | | +13.5% | +11.5% | EVA UP III | EVA + 2.1% | (Crimson Oni) Ii Naomasa | |
| | Fettered Bow | ☆☆☆☆ | | +12.5% | +12.5% | SPD UP III | ATK + 1.26% | (Three Arrows) Mōri Motonari | |
| | Serene Sparrow | ☆☆☆☆ | | +20.8% | +12.2% | ATK +8% | ATK + 1.26% | (Warmaiden) Hōjō Ujinao | |
| | Yoshimoto Bow | ☆☆☆☆☆ | | +25.7% | +17.3% | ATK +8% | ATK + 1.62% | (Tōkaidō Shot) Imagawa Yoshimoto | |
| | Crane's Wing | ☆☆☆☆☆ | | +19.7% | +13.3% | CRIT UP IV | ATK + 1.62% | (Voice of Tsuruga) Tsuruga Shinnai | |
| | Bear of the West | ☆☆☆☆☆ | | +19.3% | +13.5% | CRIT UP III, EVA UP III | SPD + 1.6% | (Western Ruler) Tachibana Muneshige | |
| | Sapphire Spider Bow | ☆☆☆☆☆ | | +% | +% | CRIT UP III, ACC UP III | HP + 1.1% | Dark Generals Awakening - Hisahide Awakened • Lunarium ++++++++++++++++ EDIT ATK & DEF | |
| | Succedaneum Bow | ☆☆☆☆☆ | | +% | +% | ATK 4%, EVA UP III | SPD + 0.9% | ++++++++++++++++++ EDIT ATK/DEF & FIND OWNER | |
| | Uroctea Bow | ☆☆☆☆☆ | | +17.5% | +14.5% | EVA UP IV | EVA + 1.8% | +++++++++++++++ FIND OWNER | |
| | Crimson Shadow Cutter | ☆☆☆☆☆ | | +22.1% | +12.9% | EVA UP IV | DEF + 1.8% | (Western Lady) Ishida Mitsunari | |
| | Scarlet Drake | ☆☆☆☆☆ | | +% | +% | ATK +8% | SPD + 1% | +++++++++++++ EDIT ATK/DEF & FIND OWNER | |
| | Scarlet Flash | ☆☆☆☆☆ | | +12.8% | +16.2% | SPD UP IV | CRIT + 1.8% | +++++++++++++++ FIND OWNER | |
| | Golden Scaled Bow | ☆☆☆☆☆ | | +12.5% | +20.8% | ACC UP III, EVA UP III | EVA + 1.8% | (Peacemaker) Ankokuji Ekei | |
| | Thrice-Cursed | ☆☆☆☆☆ | | +19.70% | +14.80% | CRIT UP IV | HP + 1.1% | (Cursed Arrows) Mōri Motonari | |
| | Plainshot | ☆☆☆☆☆ | | +13.90% | +16.30% | EVA UP IV | DEF + 1.8% | (Sharpshot) Nasu-no-Yoichi | |
| | Cerulean Bow | ☆☆☆☆☆ | | +24.6% | +11.0% | CRIT UP III, ACC UP III | CRIT + 2.6% | (Mellow Tea) Ikeda Tsuneoki | |
| | Heian Bow | ☆☆☆☆☆ | | +20.1% | +18.3% | CRIT UP IV | CRIT + 2.6% | (Priestess) Shizuka Gozen | |
| | Eternal Spring | ☆☆☆☆☆ | | +29.5% | +11.5% | ATK +8% | ACC + 1.6% | (Young Lutist) Usami Sadamitsu | |
| | Hell Breaker | ☆☆☆☆☆ | | +20.7% | +12.3% | SPD UP IV | EVA + 2.6% | (Snowboarder) Toyotomi Hideyoshi | |
| 70x70px | Holiday Special | ☆☆☆☆☆ | | +17.3% | +15.3% | EVA UP IV | HP + 1.1% | (Agostinho) Konishi Yukinaaga | |
| | Oceania | ☆☆☆☆☆ | | +14.4% | +28.8% | Max HP +3000, DEF +6% | DEF + 1.4% | (Watergunner) Gamō Ujisato | |
| | Silver Prod | ☆☆☆☆☆ | | +16.8% | +20.0% | SPD UP IV | HP + 1.4% | (Record Keeper) Ōta Gyūichi | |
| | Imperial Crane | ☆☆☆☆☆ | | +17.0% | +20.7% | SPD UP IV | CRIT + 2.6% | (Prophecy of Ruin) Ōta Dōkan | |
| | Hunter's Defense | ☆☆☆☆☆ | | +22.8% | +17.8% | Max HP +5000 | DEF + 2% | (Viper Princess) Nōhime | |
| | Lunar Wave | ☆☆☆☆☆ | | +17.10% | +15.80% | CRIT UP IV | HP + 1.1% | (Bandō Bathtime) Satake Yoshishige | |
| | Rainbow Willow | ☆☆☆☆☆ | | +16.9% | +15.6% | EVA UP IV | EVA + 2.6% | (Werewolf Witch) Tokugawa Tsunayoshi | |
| | Bow of Accuracy | ☆☆☆☆☆ | | +27.9% | +8.3% | ACC UP IV | ATK + 1.8% | (Clumsy Archer) Nagao Yoshikage | |
| | Mystery Lotus | ☆☆☆☆☆ | | +13.6% | +27.4% | DEF +8% | ACC + 1.6% | (Lover of Love) Takayama Ukon | |
| | Rustic Allium | ☆☆☆☆☆ | | +12.5% | +25.6% | EVA UP IV | DEF + 2% | (Drifting Spy) Shimazu Iehisa | |
| | Waxen Oak | ☆☆☆☆☆ | | +17.8% | +15.2% | SPD UP IV | CRIT + 2.6% | (White Serpent) Orochimaru | |
| | Heaven's Reach | ☆☆☆☆☆ | | +18.2% | +14.8% | ACC UP IV | HP + 1.1% | (Winter Princess) Irohahime | |
| | Pale Pink Bow | ☆☆☆☆☆ | | +21.0% | +17.0% | CRIT UP IV | DEF + 1.8% | (Evening Flower) Nene | |
| | Ducky Rainbow | ☆☆☆☆☆ | | +16.50% | +16.10% | ACC UP IV | HP + 1.1% | (Sun Swimmer) Asahi-dono | |
| | Violet Lily | ☆☆☆☆☆ | | +19.7% | +15.3% | ACC UP III, EVA UP III | HP + 1.1% | (Three Hats) Sassa Narimasa | |
| | Rubescent Spider | ☆☆☆☆☆ | | +15.3% | +19.5% | SPD UP IV | DEF + 1.8% | (Jorōgumo) Koshōshō | |
| | Obsidian Love | ☆☆☆☆☆ | | +28.9% | +20.5% | ATK +8% | ACC + 1.6% | (Revenger) Jōjō Sadanori | |
| | Oceanus Bow | ☆☆☆☆☆☆ | | +31.0% | +26.0% | Trait weapon | SPD + 2% | (Tōkaidō Shot) Imagawa Yoshimoto | When equipped to (Tōkaidō Shot) Imagawa Yoshimoto, 30% chance to inflict Confuse on normal attack (+3% per Imbue level) |
| | Fisherman's Bow | ☆☆☆☆☆☆ | | +25.4% | +22.6% | SPD UP V | HP + 1.3% | (Master Fisher) Tsugaru Masatake | |
| | Knotweed Great Bow | ☆☆☆☆☆☆ | | +22.0% | +22.0% | CRIT UP V | CRIT + 3.3% | (Mutual Love) Kimura Shigenari | |
| | True Love | ☆☆☆☆☆☆ | | +25.2% | +20.4% | SPD UP V | ATK + 2.2% | (Mutual Yearning) Aoyanagi | |
| | Evercliff | ☆☆☆☆☆☆ | | +34.4% | +22.1% | ATK +10% | EVA + 2.1% | (Dragon's Princess) Megohime | |
| | Skypiercer | ☆☆☆☆☆☆ | | +20.8% | +32.2% | EVA UP IV, DEF +8% | DEF + 2.2% | (Swimsuit Sniper) Matsunaga Hisahide | |
| | Excommunicated King | ☆☆☆☆☆☆ | | +21.4% | +26.7% | EVA UP V | HP + 1.3% | (Mahavairocana) Yoshitsune | |
| | Bow of Piety | ☆☆☆☆☆☆ | | +26.3% | +20.6% | ACC UP V | ATK + 2% | (Archangel) Francis Xavier | |
| | Azure Radiance | ☆☆☆☆☆☆ | | +25.7% | +19.3% | SPD UP V | ATK + 1.98% | (Conqueror) Yoritomo | |
| | Steam Bow | ☆☆☆☆☆☆ | | +26.3% | +20.8% | CRIT UP V | EVA + 3.3% | (Steam Sniper) Kirigakure Saizō | |
| | Scarlet Witch Bow | ☆☆☆☆☆☆ | | +25.6% | +26.7% | Guards against silence x1 | SPD + 2.2% | ++++++++++++++ FIND OWNER | |
| | Indigo Heaven Bow • Alert | ☆☆☆☆☆☆ | | +28.7% | +24.9% | Guards against confuse x1 | SPD + 2.4% | Sengoku Asuka ZERO First Year Anniversary Raid Event | |
| | Stage Bow | ☆☆☆☆☆☆ | | +24.8% | +20% | Guards against sleep x1 | DEF + 1.4% | Idol Event | |
| | Ghostly Gourd | ☆☆☆☆☆☆ | | +32.70% | +24.50% | ACC UP V | HP + 1.3% | (Were-Nioh) Nabeshima Naoshige | |
| | Velvet Wings | ☆☆☆☆☆☆ | | +22.7% | +24.1% | ACC UP V | SPD + 2% | (Aesthetician) Matsunaga Hisahide | |
| | Festival Wing | ☆☆☆☆☆☆ | | +28.40% | +22.30% | CRIT UP IV, ACC UP IV | SPD + 2% | (Sundown Dancer) Ishikawa Goemon | |