Overview
[
]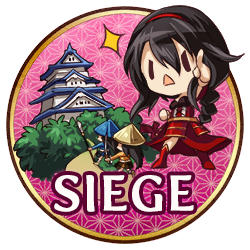 Sieges in Sengoku Asuka ZERO are competitive multiplayer battles against other regents. All regents can only attempt this mode 2 times a day with siege chances refreshing at 11:00 a.m AEST and may have restrictions as to which warriors may participate depending on the day and mode. Unlike Duels, this mode pits all eligible warriors of your roster against waves of enemies 5v5 until either all waves are cleared or all eligible warriors are dead.
Siege combat sends 5 of your warriors against 5 warriors of a random regent who fits the difficulty level. Combat is like normal story stages except it is only one battle per wave. Once a wave is completed, you are returned to the preparation screen, where you may switch warriors and view the upcoming wave. All EX bars and health bars are retained after every battle, however after each fight, all warriors in the current party is minorly healed and have a minor increase in their EX bars. Status Effects, buffs and debuffs are not retained.
Regents receive rewards for every battle won, with the regent who wins the most battles receiving additional rewards and a final reward for completing all waves of the siege.
This is the primary mode in which players earn orbs

after exhausting orbs from stage clears as well as Siege Coins

in which is used in the trader menu to exchange for warriors, skill books, Patrol tickets and other items.
Types of Sieges
[
]
There are 5 different type of sieges:
Lvl Req
No. Waves
Orb Rewards
Siege Coin Rewards
Other Unique Wave Rewards
Extra Conditions
Easy
21
5
5
200
Does not have warrior entry requirements.
Mid
31
5
15
500
Hard
41
5
25
750
Ultra
61
5
25
1000
Sake , Skill Books, Greater Fealty Gems,

Supplies

Oni
81
10
25
1200
Sake, Skill Books, Greater Fealty Gems,

Supplies, Oni Coins

Waves above wave ? have waves

starting with full EX bar.

Depending on the day, all types of sieges will have warrior requirements, only warriors that satisfies the requirements are allowed to participate in sieges Mid and above:
Additional Notes
[
]
You can retreat the warriors when a battle is unfavorable. This does not save the current state but returns you to the state before you started the wave, effectively resetting the battle itself.